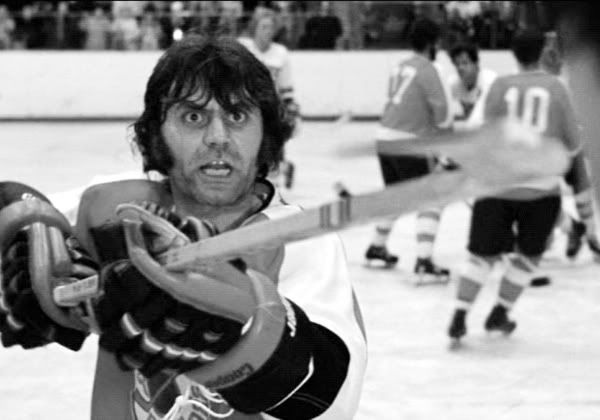 If you're a
diehard
Rangers fan then you don't need convincing and you've been eagerly anticipating the start of the NHL regular season since the Rangers were ousted from the playoffs last season by the Capitals. If you aren't a diehard (you damn well should be!) then here are some reasons why the Rangers are worth watching this season:
1.
Marian Gaborik
- he scored 5 goals in one game once. When healthy (he has a long history of groin problems) he is one of the most dynamic forwards in the NHL. [
Video
] Hopefully he can play the majority of the season.
2.
Henrik Lundqvist
- one of the best in the league. Is this the year he'll finally win the Vezina?
3.
Youth
- for the first time in years the Rangers have an abundance of youth that has actually come through the system (Dubinsky, Callahan, Staal, Anisimov, Del Zotto and possibly throughout the year Grachev). Hopefully there will be at least one good season of watching them develop further before Sather screws that up too.
4.
Matt Gilroy
- Won the Hobey Baker award last year in college and was a highly sought after free agent that had developed later than the typical prospect. A lot has been said about him already but he sure looks like he is going to be fun to watch. It's too early to be comparing him to a Norris Trophy winner, but Gilroy plays a very similar game to Mike Green of the Capitals. Plus, he's fast as hell!
5.
Sean Avery
- Love him? Hate him? No matter what your opinion of Avery is, he'll always give you something to talk about. He's entertaining and when he's on the ice it's pretty much a guarantee that there will be plenty of trash talking and pushing after the whistle.
6.
Donald Brashear
- Sorta in the same class as Sean Avery, but I'm pretty sure that a lot less Rangers' fans like Brashear than Avery. That will change when Brashear starts laying out beat downs on the other top fighters from around the league. Or, the first person to take a run at a New York Ranger who then gets challenged by Brashear and then beat to a bloody pulp. Yeah - it's fun to watch.
7.
Coach Tortorella
- A full year of watching the Rangers play the all-out offensive style that John Tortorella loves to play. Also, a full year of Tortorella means getting to see him go apeshit on the bench and do something funny at least a few more times then he did at the end of last season.