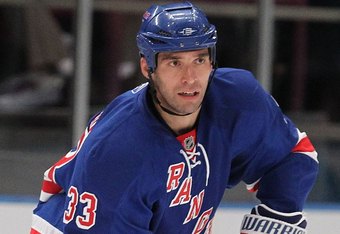 During the pre-season
I predicted
that the boo birds were going to get on Rozsival this season:
For as far back as I can remember there's been at least one Rangers defenseman that the Rangers fans jump all over. There was Tom Poti, then Marek Malik and most recently Wade Redden. Book it, this season Michal Rozsival is going to be hearing from the Garden boo birds A LOT. Rozsival is actually a semi-decent defenseman, another guy who is significantly overpaid but he's not as terrible as some fans would have you believe. Hopefully he has a strong start to the season because once those boo birds start, they are relentless!
After Sunday night's win over the Devils, Ryan Callahan
told Andrew Gross
that hearing the fans boo Rozsival "gets under my skin."
"Look at how many minutes he logs per night and what he does for us," Callahan said. "It's disappointing to hear the boos coming from the stands. It's unfortunate he gets that. I don't think it's right. I don't think he should."
Just another example of Callahan showing his leadership. Callahan is a fan favorite and when he stands up for a teammate like that there's always the chance of his popularity with the fans being affected somehow. I give Callahan a lot of credit for saying what he believes and standing up for Rozsival. There are times when Rozsival really gets under my skin but there are plenty of players that have worn the blue that have gotten under my skin and haven't heard the wrath of the boo birds. Rozsival may not be worth his contract, but he's not a terrible defenseman. Hopefully he continues to shoot the puck like he did against the Devils the other night. Sadly, Rozsival probably had his best game of the season and he still had to hear the fans booing. So much for giving a guy credit when it's due.
For those wondering how many minutes a game Rozsvial is playing, he's currently
14th in the league
averaging over 25 minutes per game through the first seven games of the season. He's averaging almost a full two minutes per game more than Marc Staal, who many Rangers fans consider to be the team's number one defenseman. Not to mention, he's currently tied for second on the team in scoring (with Callahan) with six points, only Brandon Dubinsky (7) has more points.
I think it's time the boo birds take Callahan's advice and shut their mouths for at least a few games. Rozsival's play to start the season has at least earned him that much.
= = = = = = = = = = = = = = = = = = =
Agree or Disagree with what was said? Use the comments link below...let your voice be heard!